When the actor is not the star
Auteur branding and international coordination
The highly anticipated feature film "The Neon Demon"  made its debut in competition at this years Cannes Film Festival. It was highly anticipated because great efforts had been made to make it so. I served as digital campaign manager for the Danish market as well as a very hands-on and creative coordinating liaison between  the many international distributors of the film in order to secure a cohesive and ambitious social media presence.
Global outreach
Usually there is little synergy between the marketing efforts of a film's distributors across release territories. The UK distributor wouldn't know or think about what the release strategy of the Swedish distributors might be etc. Wanting to change that, and tap into unexploited potential, we set up a Facebook global page so that it was easy for all the films social media managers across the world to get inspired and share content developed by the others. I managed to persuade all major territories to join in this approach and helped guide their progress to great benefit for the film and its fans alike, since they got the benefit of a wealth of added value content.
Preparing the waters
Nicolas Winding Refn was fast becoming a household name in the art cinema world. He has also gotten a reputation for being a starmaker, raising actors like Ryan Gosling and Tom Hardy to fame. It was clear that both press and fans were hungry for his next project. For this reason my strategy was to start the campaign very early – before production had even started. We fanned the flames of expectation for over a year, while centering the attention around the director. This was also done to built up his brand. The results would then benefit not just for this one  film but would create a  community that would follow  his future career. I reached out to current super-fans and enabled them to become active ambassadors and contributing participants on our social media platforms.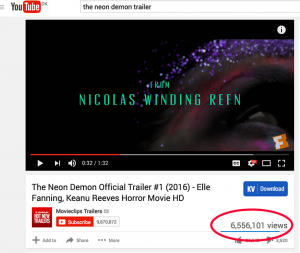 By the time the first trailer was ready to be released we'd already gathered thousands of fans across our platforms. Since they all instantly hit the "share" button as soon as the trailer was uploaded, it was able to amass over one million views over the first 24 hours – more than the trailer for the Marvel film "Doctor Strange" which  was unveiled on the same day.
"In Conversation With…"
I filmed, recorded sound, edited and distributed a series of masterclass video podcasts in which Winding Refn conversed with other world renowned filmmakers. This was done to cement the notion that the Danish director belong among the pantheon of the foremost directors in film history. I marketed the podcast's towards film enthusiast. That strategy seemed to work since the hour long podcasts amassed thousands of views and sparked online debates that lasted for months. Again building momentum for "The Neon Demon" release.
Social media upon release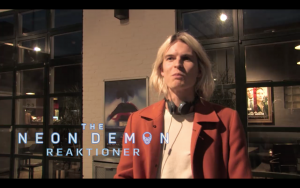 The film premiered at the Cannes festival, which helped generate advance buzz and a sense of mystery about the film's exact tone and content. We prolonged this sense of mystery by producing reaction video's with Danes lucky enough to observe advance screenings. Giving away strong reactions (good and bad) but no plot spoilers.
Closer to release date we supplemented this with cast and crew interviews, countdowns, contests, media partnerships and other forms of documentation, such as video from the gala premiere party and ultra-short teaser clips from the film, which again were heavy on mood and mystery. The result of all these efforts were that "The Neon Demon" became one of the most buzzed about films of the year landing on many prominent "best of 2016 lists", obtaining earned media coverage that far eclipsed what the film's production budget would indicate. Also given the loyal cult following we have cultivated, it is a film that will still be seen and gather long tail type profits for years to come.